A GRANDFATHER HUNT
(and some Polish research)
By Dorothy M Wilkinson
"And Moses said unto the people - Remember this day, in which ye came out from Egypt, out of the house of bondage: for by strength of hand the Lord brought you out from this place". Exodus 13:verse 3.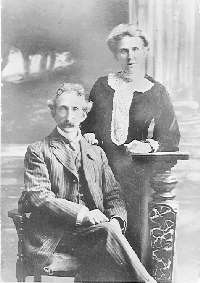 These words are on the opening page of my story on the life of my Polish-Jewish grandfather Max Michels HIRSCH.
I had some reservations about researching his family, knowing that Poland's Jewry had been all but annihilated in the holocaust. However, in 1982 I decided the time had come to "grasp the nettle", so to speak, and make an effort to locate them.
Max was my mother's father and I did know something of his early life: that a brother and two sisters and their families were living in Sydney, Australia in 1912 when my mother, aunt and grandmother visited. I knew the forenames of Max's brother and two sisters and those of some of their children.
My Hirsch grandparents were married in Auckland, New Zealand. Their marriage certificate told me Max's mother was Bertha KONINSKI, a name I'd not heard before. (I was later to learn all Koninskis are related). Max stated he was born in Berlin, Germany. He was by trade a hairdresser and age 23 years. My grandmother, Janet McGROGOR, was 26.
I knew from family sources that Max was actually born in Polish-Russia (a fact which later saved him and his family from internment during World War One).
I next inquired of the NZSG European Interest Group for any information they could supply on Polish sources. I was referred to Polish Family Tree Surnames by Thaddeus J. Obel, and I submitted my names. Mr Obel replied advising me that in a previous volume of the series the name Koninski had been advertised.
So it was I found Ursula STANTON (nee Koninski) of Sacramento, California. We compared notes and dates but are yet to determine exact relationships.
At the Auckland Institute and Museum Library I checked the book Our Alien Friends and noted the reference number of Max's 1904 naturalisation.
A request to National Archives, Wellington, brought the papers I sought. But on his application he had entered Thorn (pronounced Toroon), Germany, as his place of birth. Among the papers were several related to World War One. Dated 1916, a letter from Max to the then Attorney General requested that Max's place of birth be altered. To support his plea he included a letter from his brother Jacob in Sydney. In it Jacob stated "my brother was only 8 or 9 years when he left Poland and was not aware his place of birth was Wloclawek."
The threat of internment hung over my grandparents and their daughters until a copy of his Polish birth certificate was obtained. People were generally suspicious of "foreigners" over the war years and many of European origin changed or anglicised their names. The fact that Max had visited Germany in 1912 to learn chiropody increased suspicion against him. He was now practising as a chiropodist and masseur in Swanson Street, Auckland. The family left their suburban home and went to live some miles out of Auckland. Even then, people reported seeing lights at night and officials came to investigate.
However, back to my searches.
I considered placing my names in the GRD. "Who knows," I thought, "someone out their might respond".
My copy of the May, 1982 NZSG journal arrived and with it an application form for the GRD. Call it coincidence, fate, or what you will, but there, looking at me from the five sample names on the from was "Max Hirsch - place of birth: Thorn, Germany". I thought I was seeing things. I quickly rang a long-standing NZSG member, Alice Loose, who I knew would have a GRD from the previous year. I asked her to check. Yes, the advertiser was in Sydney, Australia. I wrote straight away and within days was in touch with a second cousin, Stephanie LUXTON. This lady was able to give me extensive information on the family, including a copy of Bertha Hirsch's naturalisation papers. Thanks goodness for the journal and the GRD because Jacob Hirsch and his family changed their name to Deerson during World War One. (Hirsch means a stag).
Through the Family History Library I obtained a film of Ocieczna, a small town where Bertha Hirsch's father, Wolf Koninski has a farm and distillery. The film was in Russian, Polish and Hebrew script. I was able to recognise the relevant entries and have them copied and transcribed. This took some time as it was in "old" script. Since then I have traced Wolf Koninski's place of settlement to the town of Sompolns, about 200 kilometres to the west of Warsaw.
I have searched phone books in USA and Israel for Koninskis. Contact has been made with several people, all of whom had family members last century from the same Polish localities as mine.
I have had wonderful visits, stories and books from these people. And heard some notable coincidences, like Ursula's story: She arrived by ship in New York in 1935 not knowing anyone. A customs official who came to clear her travel trunk noticed her name. He commented "Koninsky used to be my name until I shortened it to Konin". They found they were second cousins.
Hermine ROSEN, of New York, wrote saying she had found my letter among her father's (Bill Konin) papers. Hermine and her husband visited us in 1991 and 1994. I was surprised one evening by a phone call I received in answer to a letter to Tel Aviv, Israel, a year previously. The caller was Hila, a charming Israeli girl touring New Zealand, who called on me with photos and papers. We could see by these that we shared similar names and locations. She has promised to check these out for me in Israel.
Some of the research study was incredibly sad. Theo Richmond's book Konin - a Quest, described the almost total devastation of the Polish town of Konin and its inhabitants during World War Two.
If you have European forbears, take heart. Researching in Europe is not all that easy, but it's not all that difficult either. Family History Libraries have a great deal to offer; more records are being filmed all the time. NZSG European Interest Group are very helpful. PIAST, the official genealogical search service for Poland, has proved useful. For a modest sum, a researcher/record agent checked records is Nieczawa and Wloclawek. All checks are done in person, the applicant paying an hourly rate, plus rail fares.
Some gaps still remain in my story. Neither the marriage of Max's parents nor Bertha's birth entry have been found. This meant that I cannot search for the Hirsch name with any degree of certainty. Hirsch is a frequently found German name.
I never knew my grandfather, who died in 1929. I'm glad that I set out to discover more about him, his parents and siblings. I've found much more than expected. All this would have been impossible without the Society's journal and the keen interest and advice of members.
To quote Richard Beer-Hoffman - "All our ancestors are in us - who can feel themselves alone?"
To my grandfather - Shalom.
References:
Archives of New South Wales - Australia
Auckland Institute and Museum Library
Family History Library, LDS
Mrs Stephanie Luxton, Sydney, NSW
National Archives, Wellington
Piast Genealogical Services, Warsaw, Poland
Polish Family Tree Surnames, Thaddeus Obel
Mrs Ursula Stanton, Sacramento, California
St David's Presbyterian Church, Auckland
Published in NZ Genealogist, January/February 1999